11. Golf Jokes #6 - with Carey Erichson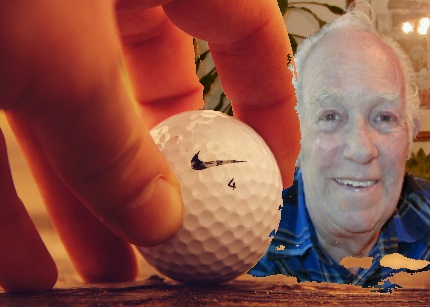 Carey Erichson has over 6,000 jokes in his inventory. You can find his 25 joke books on Amazon.com. Just type his name in the search bar under books and they will all pop up.
Reasons Why Golf Is Better Than Sex
1 - You don't have to sneak your golf magazines into the house.
2 - If you are having trouble with golf, it is perfectly acceptable to pay a professional to show you how to improve your technique.
3 - The Ten Commandments don't say anything about golf.
4 - If your partner takes pictures or videotapes of you golfing, you don't have to worry about them showing up on the Internet when you become famous.
5 - Your golf partner won't keep asking questions about other partners you've golfed with. It's perfectly respectable to golf with a total stranger.
6 - When you see a really good golfer, you don't have to feel guilty about imagining the two of you golfing together.
7 - If your regular golf partner isn't available, he/she won't object if you golf with someone else.
8 - When dealing with a golf pro, you never have to wonder if they are really an undercover cop.
9- You don't have to go to a sleazy shop in a seedy neighborhood to buy golf stuff.
10 - You can have a golf calendar on your wall at the office, tell golf jokes and invite coworkers to golf with you without getting sued for harassment.
11 - If you want to watch golf on television, you don't have to subscribe to a premium cable channel.
12 - Nobody expects you to promise to golf with just one partner for the rest of your life.
13 - Nobody expects you to give up golfing if your partner loses interest in the game.
14 - You don't have to be a newlywed to plan a vacation primarily for the enjoyment of golf.
15 - Your golf partner will never say,"What? We just golfed last week! Is that all you ever think about?"
A man was sitting in his dentist chair, when the dentist asked him to scream loudly as if he were in a lot of pain. The man ask why as he wasn't in any pain. The dentist replied that there are too many people in the waiting room and he had a 2:00 Tee Time.
My golf books are titled: "The Book of Golf Tips" and "Every Golf Shot from Tee To Green" They can be found on Amazon.com or ordered through me directly.
My signature book signing : May the Golf Gods Smile upon you, May you always hit the fairway.
To contact me please email
I look forward to all comments, corrections or complaints from my readers.
If you want a copy of these articles, please email me and I will send you one.
Carey Erichson
---