Find more pages just click below
11. Course management - with Carey Erichson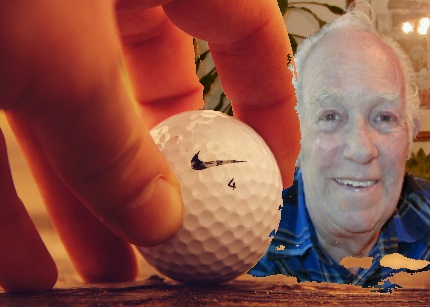 No folks, we are not talking about managing a golf course, but managing your golf game.
Everyone wants to hit that 300 yard drive, but it just isn't going to happen. So we have to plan our way down the fairway. Let's say the 4 pars average close to 400 yards and you want to get to the green in 3 shots. That comes out to 133 yards for each shot. You can tee off with your 3 wood, hit your second shot with a 5 iron and the third shot with your 7 iron and you are there. These are the three favorite clubs in the bag.
Trying to push yourself and impress your buddies won't get you there any faster. If you get to the green in 3, you have two putts left for a bogey and that is a good score for most golfers. Father time and many operations have taken its toll on my game so I am very happy with a bogey and if I sink a putt or two I will shoot in the 80's. Now you know why that math class in school was so important.
I was playing a match with several of my old golf buddies. I wasn't hitting the ball well at all so I reverted to course management. Boy did I get some teasing from them, but I did not give them my quarters, in fact, I won a few. New golfers and old timers like myself just can't hit the ball far anymore so why try? Always swing within your body's comfortable tempo.
The same theory applies to 5 par fairways. The math is a little different, so just divide the fairway length by 4 shots to get to the green and you still have two putts for your bogey.
Another course management trick is to go around all sand and water instead of up and over it. Just shoot away from trouble as you are giving yourself an extra stroke (playing for bogey golf) to get to the green, so use it wisely.
Remember you always need one tee shot and at least two putts. That is three strokes on every hole. That leaves 2 – 3 strokes to get down the fairway depending upon its length.
The ladies' forward tee boxes make up the difference in yardage so they have to divide a little more than the men.
May the Golf Gods Smile Upon you
May you always hit the fairways.
(Carey's signature saying)
My golf books are titled: "The Book of Golf Tips" and "Every Golf Shot from Tee To Green" They can be found on Amazon.com or ordered through me directly.
My signature book signing : May the Golf Gods Smile upon you, May you always hit the fairway.
To contact me please email
I look forward to all comments, corrections or complaints from my readers.
If you want a copy of these articles, please email me and I will send you one.
Carey Erichson
---