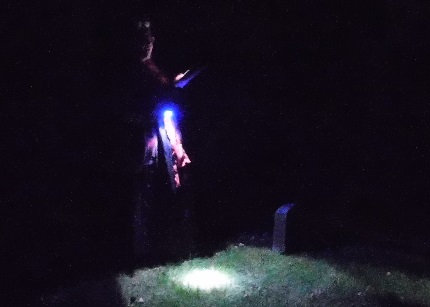 The Cemetery Tour, put together and led by Briana Herzog and hosted by the Lakeview Area Museum, took place on Halloween night at the Lakeview Cemetery at 9:00 p.m. We were pleasantly surprised with the great turnout as there were around 75 people that attended the hour long tour.........
Cemetery Tour Well Attended
The tour began after everyone had gathered at the cemetery gate. As we were guided around to the different tombstones that Briana selected, the crowd remained very attentive and quiet during the retelling of the very descriptive and true accounts of these Lakeview citizens of long ago who met with a tragic ending.Our intention was to give people a glimpse into Lakeview's past history. Another museum event will take place the first Saturday in December featuring traditions of Christmas past in Lakeview. More details will be coming in the next few weeks.
by Sharon Youngman
The Tour By Brianna Herzog
The Lakeview Cemetery is a place of unique beauty, respite and remembrance in our small town. Established in 1871 on a plat of land owned by town founder, Albert French, it was surveyed, platted and carefully laid out to showcase the beauty of its surroundings. Sitting on a hilly peninsula overlooking Tamarack Lake, it is a place of singular beauty and historic significance in our town.
On Halloween at 9 pm, it became a place of mystery and the macabre as town residents gathered at the cemetery gates for a spooky tour, a trip through time on the wings of death. Sponsored by the Lakeview Area Museum, led and researched by Briana Herzog, the tour was a look into a harsh but inescapable part of history that is so rarely talked about, death. Not everyone resting in our cemetery died warm in their beds after a long and happy life. Some of our past residents came to their end in ways that were tragic yet fascinating. The Tour started with a short history of our cemetery and then proceeded to the resting places of residents past who met an interesting yet untimely end. Each story was told in the words of the newspapers of the time with articles taken from The Lakeview Enterprise, The Greenville Independent and the Stanton Clipper.
We learned of Rebecca Abbey (1868-1890), so despondent over the loss of her lover that she ate the sulfer from the ends of matchsticks over several months leading to her demise, she told Doctors that she was determined to end her life because of this melancholy and would do it by any means neccessary. Prominent town physician, Dr. Francis Blanchard (1864-1919), working in Eaton Rapids Hospital steps off the elevator and plunges to his death. The fault of automatic doors which had malfunctioned and opened on thin air instead of solid ground leading to the Dr's doom.
A mill explosion in 1891 at the Perkins Shingle Mill took the lives of Edwin G Perkins and brothers; Robert and Edward Gregory. Low water in the boiler caused a violent explosion that blew the mill done 100 foot in the air, it landed 300 foot away.
1896, Hiram Cole, 26, a famed Aeronaut and star of a popular exhibition at the time, a Hot Air Balloon Ascension in Grand Rapids. As he was ascending, the wind suddenly picked up violently smashing the balloon he was on into the corner of a building, flinging Hiram Cole from the trapeze bar he was using for the ascent to his sad death after a 30 foot plunge. Cole had been warned by the proprieters of the event venue and his coworkers about the wind yet decided the show must go on.
The shocking death of Benjamin Butler in 1918, who was electrocuted trying to straighten a banner hanging across Lincoln Avenue welcoming WW1 veterans to town.
Death knows no bounds, age, class, race, it does not discriminate. Hiram Cornwell, 73, fell from a ladder to his death. Minnie Clark, 28, shot by her brother in law in 1877. Arthur Howard, 23, killed by a falling tree in 1904. Adrian Clay, 8, drowned in Tamarack Lake in 1905. Erma Belle Charnley 1, Scalded to death by hot water in 1906. "Baby" Perry, 6 months old, died in a fire in 1890, her oldest sibling was playing with matches and her mother was visiting a neighbor. Death may be a taboo subject, but it touches us all.
We proceeded from tomb to tomb each marked with glow sticks making eerie ghost lights in the night being regaled with true stories of suicide, accident, misadventure and even murder.
1936, Hinton Township. George Durling, shoots his grandfather murdering him in cold blood. George Stimer, who was an old man well known and well liked in the community, we are told by Durling had a secret dark side, abusing, bellittling and forcing his daughter and grandsons to live in poverty while he kept the money for himself. Waking up one day and having enough, Durling walks into the yard and shoots his grandfather dead. Stimer was found to have had $6700.00 in his pocket at the time of his death. The young man snapped after his mother asked for $1 for cream and her father denied the request.
Lakeview has a rich and varied past, some good and some bad but all interesting. Our tour was a fun albeit creepy look into that history. These stories and more were told so the dead can remain somewhat alive in our memories and perhaps in their stories we can learn lessons.
We closed our tour overlooking the beautiful islands in Tamarack Lake and on a mystery that many believe was never solved.
1895, Lakeview. The town is in an uproar!! John Bale's rowboat is missing and many village residents claim to have heard gunshots coming from the middle of the three islands in Tamarack Lake. Residents took to their boats and converged on the island to find John Bale's Boat filled with blood, signs of a great struggle on the island with more blood, a derby hat with bullet holes in it and drag marks leading to the edge of the lake. The town was searched but no resident was missing thus a stranger must have been murdered in our midst! In the boat was found a train schedule, with routes highlighted from Chicago to Greenville and the words LAKEVIEW, MONTCALM, MICHIGAN scrawled on it. The lake was searched, the town was questioned and yet, nothing was ever found. Some say it was a hoax but others say that a body still lies lonely and un-avenged on the bottom of Tamarack Lake.
Feel free to check us out online as well at our Website and Facebook page.
---