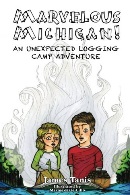 MARVELOUS MICHIGAN! An Unexpected Logging Camp Adventure
by James Tanis
Siblings Jamie and Heidi head to the library to find a summer read, but end up in the library basement. They find a magical book that transports them back in time to a Muskegon, Michigan logging camp owned by the famous lumber baron, Charles Hackley!
How will the children fit in with these rough and tough lumberjacks? What will Charles Hackley do with them? How will the kids return to their own time, if ever?
Join Jamie and Heidi on their first adventure in Muskegon when the white pine was king!....

Also available at The Peddlers Patch in Lakeview MI